200 Degrees Coffee, Nationwide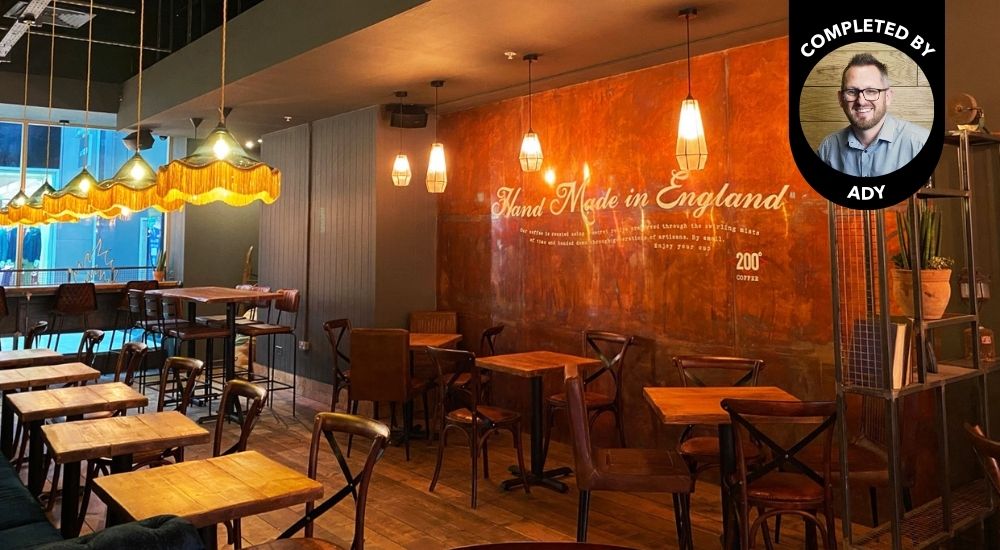 The Background
200 Degrees is a coffee lovers paradise that has grown rapidly over the last 10 years to become one of Nottingham's best known brands. The much-loved coffee empire now has 20 locations with their main roastery being just around the corner from Contract Furniture Groups Nottingham site. Since opening its first store in 2012 we have worked with 200 Degrees to fit out its new shops, supplying everything from loose furniture to fixed seating.
The Task
200 Degrees stores have highly distinctive interiors, with a blend of industrial and rustic design which creates a unique and inviting atmosphere. The use of open brickwork and exposed metal piping immediately gives the space a raw, urban feel, paying homage to the coffeehouses of old, which often had a utilitarian and no-nonsense appearance. Contrasting the industrial features are warm and inviting wooden rustic counters and wall panels, which bring a touch of nature to the space to provide a welcoming contrast to the coldness of the metal and brick. The combination of wood and brick injects a sense of authenticity into the atmosphere, evoking the feeling of a cosy, homey environment, complete with classic fireplaces and cosy armchairs.
This distinctive style used throughout all locations means the rollout and supply of furniture is consistent with each new store opening. For every store we furnish, we complete a site visit to take measurements for floorplans and fixed seating areas, allowing us to get a sense of each space and prepare an initial presentation of products that would be best suited to that unique site.
The Work
With the aesthetic in mind, we worked closely with the client to pick products that not only suited the décor but would be functional for both staff and customers. A range of loose furniture was chosen, mainly from our industrial collection, including our Flight Side Chairs, Vault Side Chairs, Refinery Stools and Ridge collection - all with a classic industrial design.
Our Bentwood Palm Side Chairs are supplied to every site, to deliver just the right look with their exposed wooden frames with metal detailing polished in Dark Walnut and provided our Bulldog Side Chairs, a modern design, polished in walnut and upholstered in a natural half-grain aniline leather with an aged appearance in Rimini Rust.
Cast iron table bases were supplied for its rustic table tops sourced from a local independent carpenter, helping further support Nottingham businesses. These table tops were specifically designed with the customer in mind with as they had pneumatic systems ensuring tables were stable and sturdy so that no coffee was spilt.
Within each store we provided our design, manufacturing, and installation services in the form of bespoke fixed seating, with at least 4 meters installed in every location. Upholstered in a ILIV Azurite Blue with a deep button-back and a unique finish of a Chesterfield arm on each end, these units were specifically designed to look like a traditional sofa. The blue fabric used within this fixed seating was chosen to be a statement within the store, as not much colour is used traditionally, making it a real stand-out feature for each location.
The Result
Ultimately, the interior design of 200 Degrees Coffee shops strikes a perfect balance between industrial and rustic styles, creating a visually appealing and comfortable environment. The combination of open brickwork, metal piping, and wooden accents gives the space a unique character that sets it apart from other coffee shops.
Beyond aesthetics, the design also serves a practical purpose with the layout and furniture, providing functionality for visitors. Whether they are looking for a place to work, have a meeting, or simply enjoy their coffee, 200 Degrees Coffee Shops offer a variety of seating options to accommodate customer needs.
Additionally, the mix of industrial and rustic elements reflects the brand's commitment to quality and craftsmanship. Just as it takes pride in sourcing the finest coffee beans, the attention to detail in the interior design and furniture showcases its dedication to creating an exceptional experience for its customers.
So, the next time you find yourself craving a delicious cup of coffee, be sure to step into a 200 Degrees Coffee Shop.